When COVID reached our shores, it turned the global trucking industry on its head. As swathes of the world economy shut down and curbs on movement and gatherings disrupted supply chains, trucking companies were forced to drive several hundred miles to find the next load, bleeding cash and sidelining thousands of truckers. This led to a mass exodus of truckers who decided that life at home was better than life on the road. The only benefit was empty streets meant less congestion and a chance to enjoy the scenery.
It was also tough being on the road with restaurants and stores shut down and not a place for miles to eat or relieve myself. The beaches are one place, though, especially since they were deserted.
There were only a few beaches in the US that were still open. Biloxi Beach on Mississippi's Gulf Coast was one of them. The other were the beaches of northeast Florida. All other beaches to the north and along the west coast were shut down facing community discontent.
After dropping off Carmen at the Louis Armstrong International Airport and then delivering my Amazon load to Davenport FL, I headed straight to the only place where I could roam free. Which one? In Florida, the entire coastline — all 700 miles of it – is a virtual, endless beach. Cocoa, Daytona, St Johns, or Duval – I had a few options in hand.
First to St Augustine Beach. I was impressed that it was fairly unencumbered. Since this is Spring Break season and the record-breaking temperatures soared to near 90 F., the beach would normally be packed. It didn't appear that people are been diverted to St John's from other locations, but it wasn't the weekend yet, and once people got wind that St Augustine was open, the mass would surely start arriving.
Currently, there are only two counties that allow beach access: St John's which includes St Augustine Beach, and Volusia which includes Daytona Beach. The only restriction imposed was no beach parking. This limits crowds and tourists, so the beaches were mostly filled with locals who are able to access via foot, pedal, or skates. St A. was so isolated, that during my four hours on the beach, I never got within 10 feet of anyone. I ran, sunbathed, watched people (or lack of), swam and body surfed, and there was virtually zero risk of catching the coronavirus. My chances of getting sunburned or drowning were precipitously higher.
The beach did display signs telling people to limit groups larger than 10 and to distance six feet from others. However, there was a group of young men (spring breakers) who flagrantly ignored these rules.
College-aged men playing sand football involves a lot of contact, and although I did see some police patrolling the beaches, they weren't enforcing the 10-people, 6-feet rule.
There's really no need to take drastic measures to lock-down the entire sunny state of Florida. People need to get out to get some fresh air, walk, exercise, and to generally clear their minds. People were generally respectful of each other's boundaries and it's important to treat them like conscientious adults. The kids, on the other hand, were another issue and enforcement should be imposed. Yes, they're young, healthy and resilient. But not so much the family and friends they return home to.
These young people are healthy and will likely be fine if they got exposed. But once they return to their homes in lockdown, they could easily spread it to their families including the elderly. They may be asymptomatic but easily become super spreaders all across the country.
Later in the day, I headed to the old city. It's called Castillo de San Marcos and it's the oldest masonry castle in the US. The castle, built in 1672, protected the city of St Augustine and defended Spain's claims to the New World.
The Castillo design evolved from the medieval castle. A towering castle was too vulnerable to artilleryman, so they lowered their target-like walls, and added large mounds of dirt to stop the cannonballs before they could hit the stone. And to keep invaders from scaling, they built large moats all around.
Today, when opened, you can tour the interior courtyard as well as visit the gun deck which offers a commanding view of the city and Matanzas bay. Cannon firings and gun demonstrations are conducted most weekends, but sadly with the pandemic, the fort has shuttered its doorways.
I was thoroughly enjoying my pandemic-restricted respite in the Ancient City. Unfortunately, it would beg short lived. The next day I booked another Amazon load headed to Mobile, AL. But from there I would have a chance to peruse the beaches of the Gulf Coast.
* * *
Biloxi, home of Keesler Air Force Base, boasts the longest man-made beach in the world. The soft, white sand was imported from Florida and unlike the sunshine state, there are not miles of condos and hotels. Also unlike Florida beaches, there is no surf and the water which flows from Lake Pontrachain is a bit murky, brown, warm, and totally fine to submerge your body and swim.
I parked my truck at the Treasure Bay casino pier – a pirate-themed casino boat was docked here 15 years ago until the Cat 3 hurricane force winds from Katrina tore its moorings, and the good ole Jolly Roger came to rest 100 yards away. Gone were nearly a thousand slot machines, 50 table games, and a 40,000 sq. foot iconic barge, forever altering the coastline of Biloxi Beach.
On the Gulf Coast, the storm surge had risen 30 feet with waves reaching 34 feet. Everyone talks about Katrina's devastation in New Orleans because of the levees, but Mississippi actually bore the brunt of the hurricane causing total devastation.
The Treasure Bay Casino was closed and there were no signs stating that I couldn't park there. One glaring omission from the beach scene was the closure of all casinos which employ over 37,000 people and brings in $1.6 billion in wages and $2.2 billion in revenue across the state.
The recovery was prolonged not by will, but due to policy since insurance payments have been mired in red tape. The casino business had finally fully recovered and there are plans to build an entertainment pier across from Treasure Bay. But still, there were other disasters that affected tourism. In 2010, there was the devastating BP Deepwater Horizon oil spill, littering the gulf coast with nasty tar balls. Last summer the beaches had to close for two months due to the blue-green Harmful Algal Bloom (HAB) which can be toxic to humans and marine life. The Algae formed due to the intense spring flooding over the Bonnet-Carre Spillway. Water that contained nutrient-rich fertilizer then fed the algae which enveloped the Gulf. The algae have been reported to cause rashes, stomach cramps, vomiting, and diarrhea.
It's taken 15 years for Biloxi to fully recover from the destruction of Katrina as well as other disasters, natural and man-made, and now the tourist industry has taken a huge beating from the pandemic.
As spring break arrived with bacterial levels low rendering the waters swimmable, the coronavirus hit like a storm. Governor Tate Reeves knew full and well the economic impact of natural disasters and diseases. He was State Treasurer, Lt. Governor for 8 years, and now the recently inaugurated Republican Governor.
Tate issued an executive order which overrides the directives of cities and counties that "considers most businesses in the state as 'essential' and are therefore exempt" from orders to shut down.
Tate stated that "Mississippi's never going to be China." So far, the state has seen about 500 cases of coronavirus with six deaths. Neighboring New Orleans, on the other hand, was set to become the epicenter of coronavirus spread in the U.S.
While the casino was closed, several beachfront restaurants stayed open for carryout. I visited The Reef which has a million dollar view of the beach.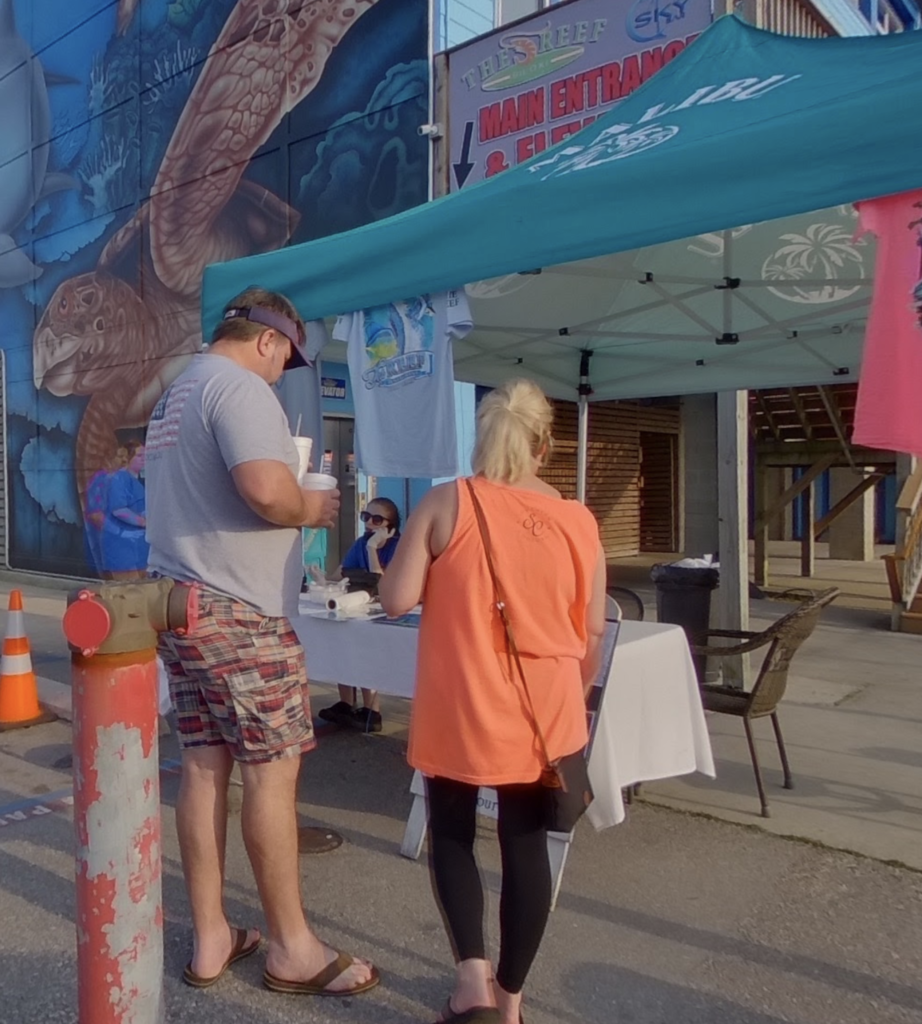 The dining room was closed, so I made my order at the canopy.
"Is that your truck parked in our lot?" Andrew, the manager asked.
"Yes, would that be ok?"
"Since we're not busy due to COVID, that'll be fine. But on a regular evening, this place is packed."
When I got my order, I proceeded to the balcony to enjoy my meal and brew with the view of the windy Gulf coast.
I enjoyed a double course of Shrimp Alfredo and Alligator bites along with the local IPA (Biloxi allows open containers throughout the city). The bites were crispy on the outside and moist and tender on the inside.
At next door South Beach Hotel, where rates have plummeted to about $100 a night for up to 4 guests, things were business as normal at the community pool.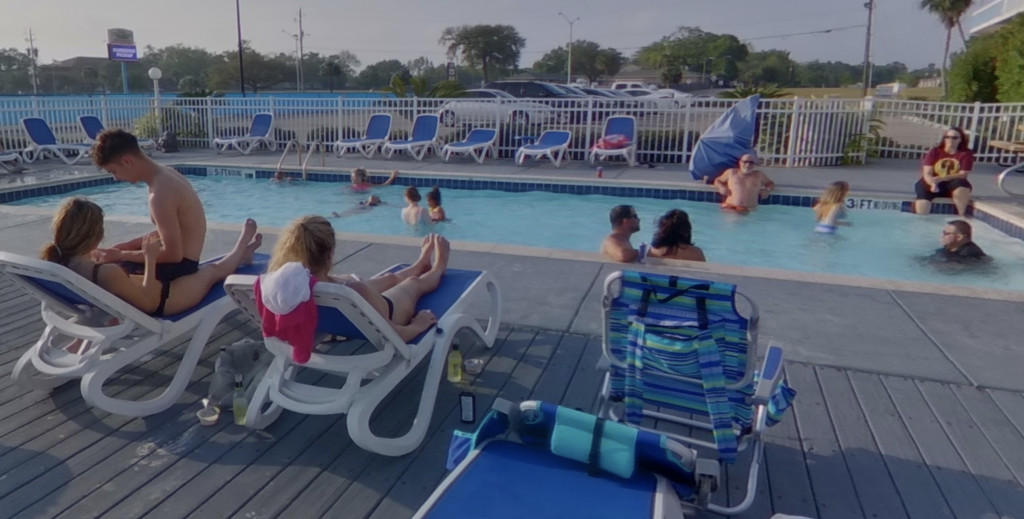 The treated wood deck on the flatbed served as a great place to catch some rays and enjoy an adult beverage. People tell me not to swim in these waters. It's not due to the BP oil spill – that horrific event was 10 years ago. It's because the polluted water that flows from the Mississippi River stays close to shore since the tide doesn't come into the bay to regenerate the waters. Maybe so, but I didn't have a problem swimming in it. I've swam in the Potomac/Anacostia River habitually and not once did I get recreation water sickness.
The following week, I delivered a few Amazon loads to New Orleans. When I returned to Biloxi, the week after, I was dismayed to see that the beaches had closed. The cops were patrolling on their ATVs in their feeble attempt to keep folks off 27 miles of shoreline. It's hard to ban Mother Nature – it's a whole lot easier to lift the ban and just implement social distancing.
I got to Biloxi Beach just in time before The Reef closed for the night. Ordered my obligatory family meal and a growler of Crowd Control. Even got a Piña Colada and a Margarita. Cinco de Mayo was just around the corner and it's never too early to celebrate. Then I went for a much craved and well-deserved twilight swim in Biloxi Beach. The fish were jumping, not used to seeing a human going for a dip this late. The stars were twinkling as I basked in its light on the sparkling white beach. The shoreline was lit up in incandescent and neon. All around me the squawking sounds of least terns nesting their eggs in the wind-swept sand. And up above nocturnal birds dashed through the sky like a shooting star.
The following week I returned to Florida with an Amazon load. It seemed like I found a steady route from the Atlantic Coast to the Gulf Coast that was both lucrative and enjoyable By now, the beaches further north in St Augustine and Jacksonville had time restrictions, so Flagler, off-the-beaten-path and laid-back, was a good bet.
There were no major hotel chains, tons of restaurants, bars, or condos to navigate around. It's not congested like Daytona and it's quiet, not as much as Biloxi, but it's local and not overrun by tourists.
The surf was good and steady off-shore, but the sand was hardly pure like Miami or Biloxi. Far from white crystal, it's actually the color of red-clay
The rust red color comes from coquina rocks and instead of blowing off with the wind, sticks to your feet and tracks all over the truck. One thing I've learned about beaches in Florida and the Gulf coast, they run the gamut. From hard-packed sand in Daytona that you literally need a power drill to raise an umbrella to powdery sand in Mexico Beach, every beach is not the same, and every beach attracts a different crowd and atmosphere.
I parked across the street from a bar and grill called Tortugas offering lots of outdoor seating to social distance while feeling the sea breeze on my face and with a splendid view of the ocean.
"So are you excited about opening up indoor dining?" I asked my bartender who was busy managing the outdoor patio all by herself.
"Absolutely we're gearing up for it. We're looking forward to welcoming patrons inside," said Elisha, wearing a high ponytail with a weathered beach ball cap.
If you're in the mood for seafood, this rad joint is the spot. A couple seating at the next table over six feet away were enjoying their mahi mahi – the fresh catch of the day with fish tacos and calamari.
I then ordered and steadily consumed my firecracker shrimp tacos – big chunks of blackened meat with crunchy cabbage and fresh pico de gallo.
Vintage motorbikes roared by in front of us – the sound of summer. The police were still busy keeping folks from walking on the boardwalk but that restriction would be lifted next week.
It was nice ordering my food here and it was peaceful spending the night across the street. Can't wait till the restaurant opens indoor dining next week.
The parking lot was rather large, and I had no problem parking my rig there. After I wrapped up, I would move it to the public parking lot across the street and planned to spend a peaceful night there.
As part of phase one, indoor seating (as well as outdoor seating) will be allowed the following week at 25 percent capacity. Hopefully, this is a good decision and Florida can continue to flatten the curve.
Everyone I spoke to seems excited but didn't seem to mind seating in the patio for now. After all, the weather was great and the view was just as amazing.