I-81 follows the spine of the Appalachian Mountains like a slipped rib. The drive in some stretches can be challenging to some and down right frustrating to others.
"Heck, it's not all that bad," says some truckers. I'll take 81 over 95 any day. Hills are better than crazy suburbia drivers in their SUVS and luxury sports cars, " I heard.
If you don't start the hills with a full tank of fuel, you can easily run low before things finally level out. That's because hauling a heavy load up treacherous Tenn hills can consume more fuel than you can ever imagine.
The first day driving on I-81 was stressful but smooth. I managed going up and down, down and up with steady speed and without any hiccups. Heck I might even have to drive through the night – all the truck stops were filled to the rim. Then near Bristol, out of nowhere, an LED sign for Walmart towered over the freeway – a welcomed respite for the night.
Woke up first thing and ready to roll. There's a tough stretch on 81 where there's not a single truck stop, perhaps 60 miles at best. That's the situation I was in – low on fuel and feeling a stroke of desperation creep in. My meter read empty with the dreaded low fuel warning light and I had 30 miles to carry before a Pilot or TA came into view. My GPS indicated that there was a Marathon Gas station within 10 miles – a safer option, I thought. I called them to see if they could fit a big rig — they applied in the affirmative, but I know they rolled their eyes with sarcasm.
I pulled off the interstate. Why couldn't the gas station be right there. The Marathon was a good two miles instead and my heart began to race. My fickle GPS led me to a steep, windy road and I already started to dread the obstacle ahead.
My little red engine mustering all the power it could  had a difficult time climbing this ridge. All of a sudden, my 80,000 lbs rig came to a dead halt. Was my clutch slipping? Did I have a worn throwout bearing? Every time I tried to start the truck on 1st or 2nd gear, it would start to slide back and dangerously roll off the road into the looming ditch. In order to prevent this from happening, I had to slide into the next lane so now I was blocking traffic from both sides. Nobody was a happy camper, and I was none for the worse for their demeanor.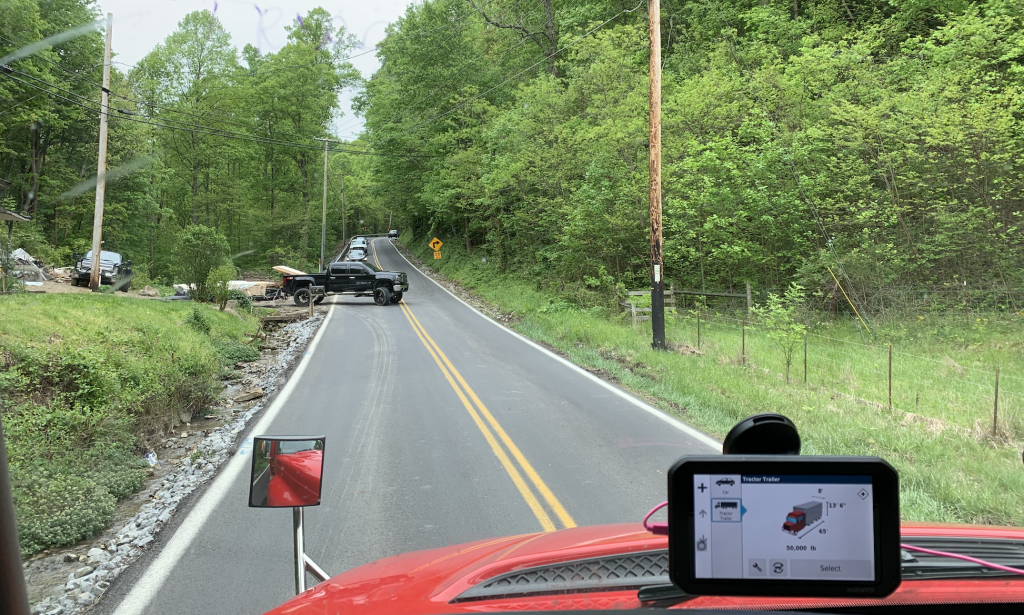 By now I had called a wrecker and already could envision the bill of at least $500 to pull me over the knoll.
Then seemingly out of nowhere, a barrel chested roughneck with a red, white and blue bandanna over his head stood by my door.
"What's the matter. You need help?"
I nodded desperately, hoping he knew how to drive a 10 speed.
"Alright lemme park my ram and I'll be right back."
It seemed like time had stood still, but before I knew it, he was getting into the cab. 
"I've been driving these hills for over 30 years. I know them like the back of my hand. Now slide over."
I happily slid into co-pilot, praying God would lift me off these hills.
Thankfully this Guardian Angel had the key — his secret was to lock both the differential and inter-axle on my dash. He then started the truck in 2nd and slowly let his foot off the brakes like an adept pianist and with precision the truck started rolling in gear up and I could hear the little red engine chugging along.
I thanked my trucker angel profusely and paid him a nominal tip. He was glad to help and jumped off the rig while the truck was still in gear. Then I maneuvered the truck to Marathon Gas and Munchies Country Store like an attentive apprentice, thankful that I was no longer stuck on the long and winding road.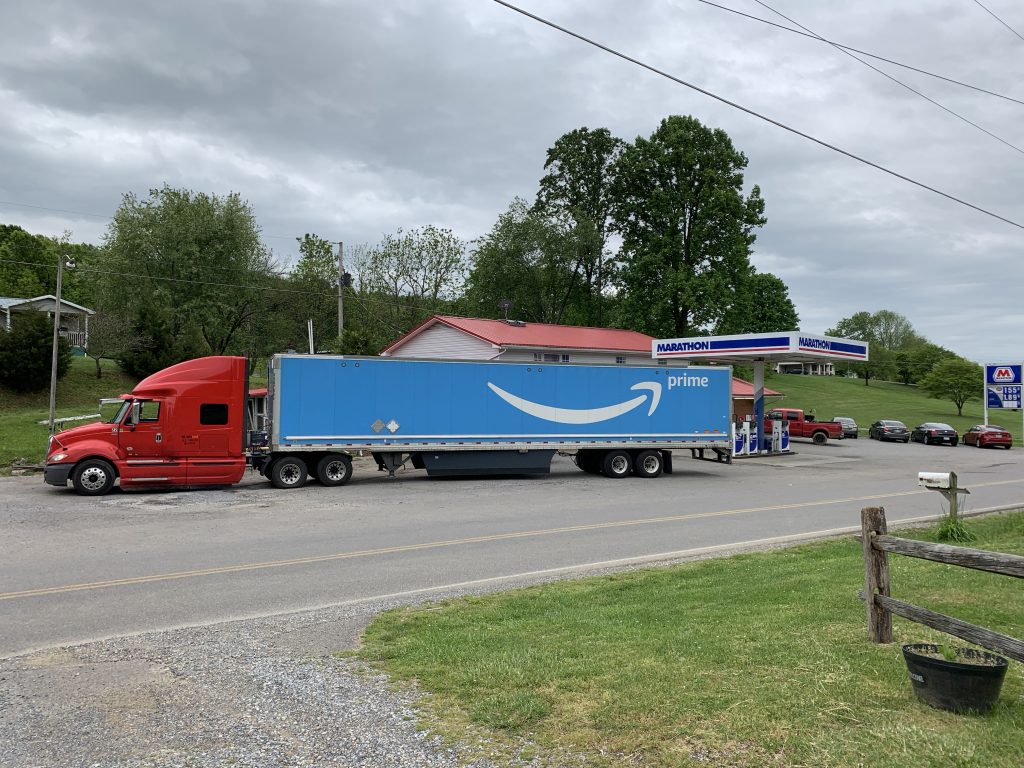 While fueling, I noticed that my front drive tire was flat. The tire was completely out of air and the bead was broken from the rim. I was glad to have discovered it, and if it wasn't for running low on fuel, might have gone another 300 miles on the flat – not a good thing in the Tennessee hills. I quickly inflated the flat but the tire wasn't holding air and would have to inflate it again at the next stop.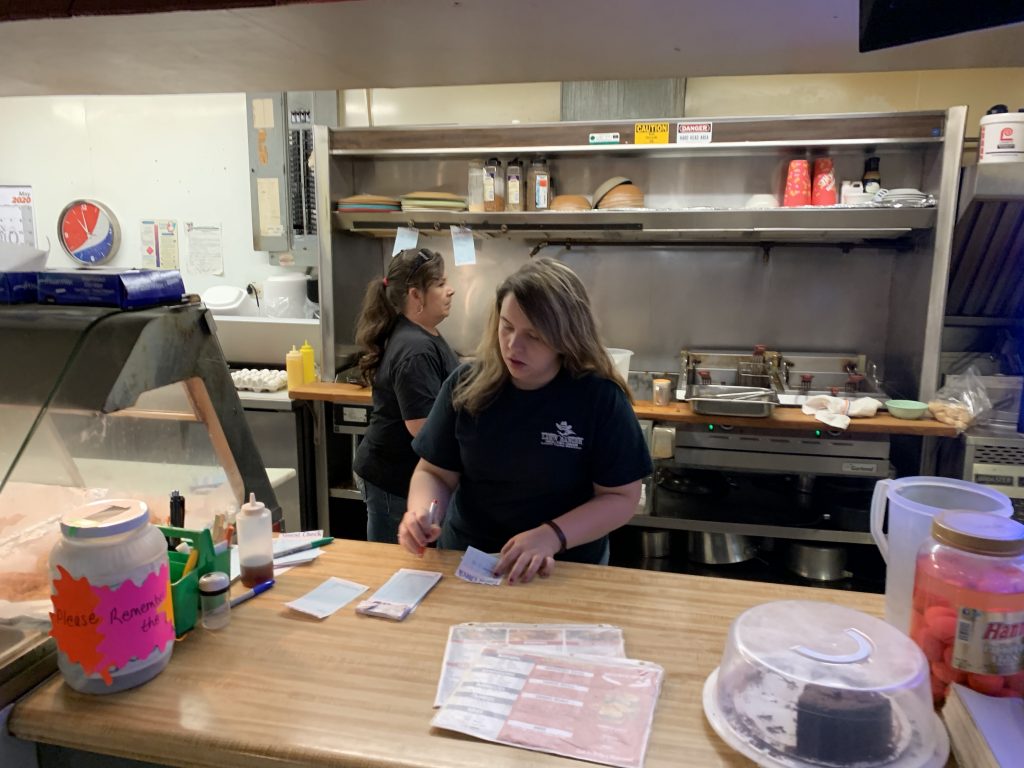 Whiting Egg Breakfast @Munchies
After fueling up, I was happy to get anything down my stomach. Ordered fried fish, fried eggs, fried taters and grits. It was warm and wholesome. Best of all, I could actually sit down, take my time and enjoy. After getting stuck on the hill and stopping traffic, I think I deserved a breather.
By the time I reached Arkansas, my Regen light started beeping and the DPF status light started flashing like a 4 alarm fire. My DPF was clogged and I had to find a shop immediately to do a forced regen. But it was after hours and there were no International shops nearby.
I had to quickly find a place to pull over to do a parked regeneration. But on 40W, there were few places I could safely stop. Sometimes on highway cruising, the system would do a regen on its own. The key was to drive at a rapid speed and avoid stop and go, hoping that the steady combustion will burn out all the excess soot from the DPF.
Suddenly without much warning the Level 4 warning light came on accompanied by a constant beeping and "Stop Engine Light." I pulled over at the next exit.
When I finally stopped, I found out to my dismay that I couldn't do a parked regen. When the system progresses to Level 4, only the International mechanic could do it with a laptop loaded with International software plugged into the ECM.
But been the weekend, virtually all the dealerships were closed and this load had to be in Dallas by Monday.
I found it F-2G for the instrument cluster. Sure enough the blasted alarm stopped and I took a sigh of relief. The fuse also controlled the speedometer, but I could use the Truck GPS to determine speed. But while pulling fuses, I inadvertently pulled a wrong fuse and now the engine wouldn't start.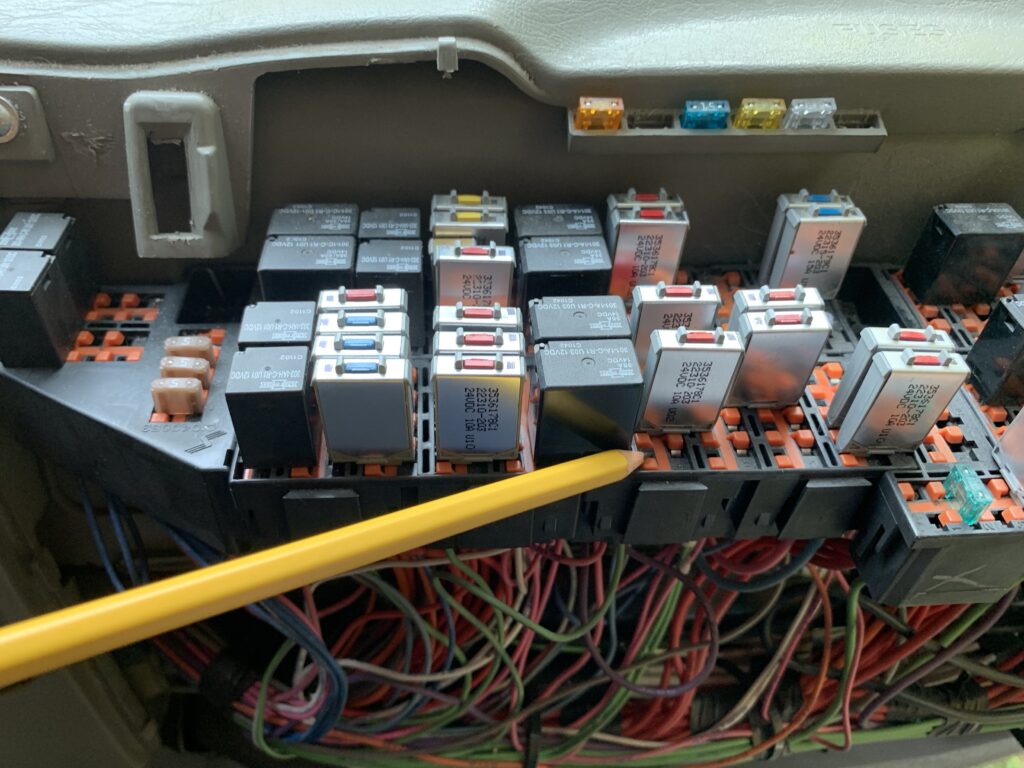 I quickly realized which fuse it was and corrected it. Voila the engine cranked up. But now my windshield wipers wasn't working. Also my dash control didn't work which meant I couldn't control the jake brakes or dump my suspension air.
I took pictures of my fuse panel and started googling each position. It took me several hours but after checking and replacing fuses, my trusty windshield wipers as well as my jakes, suspension air dump valve and parked region were working. One lesson, always take a picture of the fuse panel before you start pulling fuses. Some of these fuses panels are compact and if your thick fingers are getting in the way, use a pair of tweezers or needle nose pliers. You can also check whether the fuse is blown by using a multimeter. Simply pull the blade fuse out and hold the leads to the end of the fuse. You should get a constant beeping to ensure that the circuit is complete.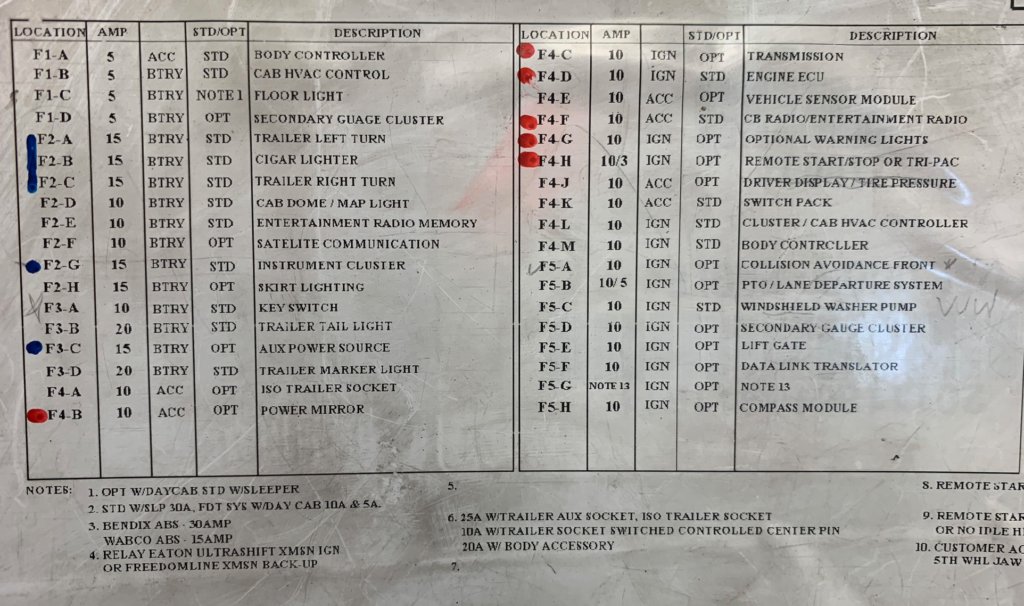 So I had no choice but to drive with the constant beeping. It was irritating as hell but after awhile I was surprisingly able to tune out the buzzing and just focus on driving, which in itself had become quite a challenge.
I knew I could pull the F2-G fuse, but I didn't feel like stopping. I just rolled down the windows and put on my Beats Studio 3 which tuned out most of the background noise.
Right away, my engine started losing power as I started climbing short but steep hills as I past Texarkana.
Suddenly my 350 HP engine was working with just half its potential. Is this because soot was entering the combustion chamber and interfering with the internal combustion of your engine.
Maybe, but probably not so. The Engine Control Module (ECM) was derating my engine because engineers had hard-wired this into the software.
Navistar (who happened to be fined by the EPA for over 300 million) does not want me to pollute, so whenever my DPF is clogged, the engine will derate to force me to stop immediately or to slowly limp home and find a mechanic.
But this can be dangerous especially when you're driving up on a hill. Without enough power, you may not be able to climb a hill, stall, or worse cause a crash.
My max speed going up hill now was 45 mph. I had heard rumors that if I kept going, I would eventually derate down to 5 mph. I was still 100 miles away – I had to hurry to make it home before I came to a dead stop.
Driving with a clogged DPF could also damage other parts of your emissions systems such as the DOC.
I've heard of drivers complain that poisonous exhaust gases can enter the truck. At this moment and time I hated Navistar for their crappy Maxxforce Engine and EGR emissions design.
There was little time from Level 1 to Level 4 and the constant beeping and engine derating made it impossible and unsafe to drive my truck to a safe location.
I was screwed.