By late spring, my dreaded criminal case had been dismissed with prejudice. The DA dug up exculpatory evidence on Faith. She had recently been arrested for theft at the Harriet Tubman Women's Shelter making her an unreliable witness.  Ironically, my other tenant, had locked Faith out of the house on New Year's Day, and Faith decided to camp out at the shelter where she was caught red-handed breaking curfew and stealing from fellow residents.  A huge weight was taken off my shoulders, and now I was ready to haul heavy loads and massive freight without a pending trial.
The first company that hired me straight out of school was Coastal Transportation, a struggling flatbed company based in Savannah, GA.
Backing a flatbed trailer is tricky due to the spread axles.  Yeah the load is more stable, but you never know which axle is the pivot point. You just assume it's the front axle and everything behind is the over-hang.  And you sit and pray that that the ten feet of swing don't scrape the pretty Petes on both side of you.
At least with a dry van you can slide the tandems forward making for a shorter wheelbase and easier maneuverability. Other factors to consider with a flatbed are the weight of the load, and whether you are on asphalt, gravel or dirt. Naturally gravel turns faster than asphalt and dirt can get quite messy.
Perhaps the only thing harder than backing a tractor trailer into a dock, is tarping a load of sheetrock. The tarps, 60 lbs dry, weighed more than a bushel of rocks. If they were drenched in rain or frost-ridden, they got heavier and harder to grip.
Overall, tarping the load and strapping it down with a bagful of bungee cords was back breaking and time consuming. And the sultry Georgian summer made me wish I was in Maine.
Some trainees were able to fold a lumber tarp in one minute flat. Some took longer than others — my tarps were never pretty and ended up flapping in the wind – I wasn't making my bed with hospital corners to be inspected by my drill instructor after all. Tarping seemed to me like an often-unnecessary chore to keep the gypsum from getting damaged just in case it would rain. It was a waste of time for something that may happen 30% of the time. And if you crank the straps too tight, you could damage the sheetrock, even if you had edge protectors.
"Ok students, when you get assigned your trucks, make sure you add enough straps so if you get stopped by the DOT, you don't get a ticket," said our lead instructor. "And when you get behind the wheel, whatever you do, don't overspeed."
"What if the speed limit is 75 like it is in Maine and Louisiana?" an inquiring student asked.
"Or 80 in many parts of Texas," another added with a smirk.
CT, like many trucking companies had installed speed sensors in the transmission that can detect the engine speed. Even though the engine is governed to 64 mph, the speed of the truck can exceed that when going downhill.
Overall the training was great and my new friends and I had a fabulous time in Savannah. I rented a car for the week and when we got done with training, we would visit restaurants and bars in the area.
We all loved tacos and tequila so Patron on Ogeechee Road was a natural fit. The place was jam packed after-work. Ft Stewart is nearby, and the historic district is not too far away.
We started with the margaritas – they came in huge 55 oz fishbowl plastic glass dipped in salt. The guacamole was prepared right in front of us, we could smell the sweet, nutty flavor and feel the creamy texture touch our tongues.
It was Tuesday. My friends ordered the beef fajitas, the meat was richly marinated with lime, garlic and soy sauce. I opted for the chicken enchiladas after reading the Yelp reviews.
The enchiladas came with frijoles negros (black beans), rice, flour tortilla smothered with cheese and savory chile sauce.
We definitely imbibed on the ceveza and happy hour specials. With a name like Patron, their margaritas are mule-kicking strong here.
Then without warning, a loud pitched whistle, a clap and "Felix Cumpleanos." Somebody wearing a bright red sombrero is celebrating with a shot of Patron
We also enjoyed going to the riverfront and watching all the container ships come in.  
"Some day, I'll be pulling these loads," said Keith holding a 16 oz beer container and gulping it down like it was soda.
"You're not gonna do flatbed?" I asked.
"Absolutely but some flatbeds can haul port loads, too you know."
What we enjoyed about this enchanting Southern city is the relaxed open container in the historic district.
"Why do you want to be a truck driver?" I asked Keith "I like working independently and it's decent money if you're willing to roll," he answered.
"Right on Bro."
We all learned a lot but most of all made good friends that we'll stay in touch with throughout our budding careers.
Not all of us made it through training – a few dropped out – but it was only because they realized that flatbedding wasn't their thing.
Who would I train with? Someone local? Then without warning a call from my Driver Manager from Baltimore. "How quickly can you get down to Savannah?"
"Whoa, how am I going to get down there?"
"Either take a greyhound or drive – we'll reimburse you."
Not able to catch a greyhound by the next morning, I decided to go balls to the walls in my Subaru that evening. I was making good time and expected to be in Savannah by 2am. Then when I was driving on 95 near Lumberton, NC around midnight, I heard a popping sound from my engine. I pulled over at the next exit and saw white smoke. 
It appeared that I had blown my header. I had to wait till the next day to tow my car to the Subaru in Fayetteville.  It would take a few weeks and several thousand dollars to change out my motor. I chose a rebuilt motor due to the cost. My trainer picked me up at Lumberton.
"I haven't gotten much sleep. Tired from last night. Hope you can cut me some slack," I said.
"Certainly, you can ride shotgun until tomorrow – then you can start driving," said Randy. "Have you driven before?"
"Yes for about a month with Western Express." "Good. The hardest part of trucking has nothing to do with driving a truck. It's all the other stuff that goes along with it – using the Qualcomn, spending a night at the truck stop, sitting at the shipper and receivers for hours on end."
"Super, I'm looking forward to learning everything you can teach me." One early morning while I was asleep I started smelling smoke wafting up.  It was so suffocating that I had to get out of the truck.  I couldn't believe Randy was smoking inside the cab.
The three weeks with Randy went well.  Every Friday afternoon he would drop me off at a motel in Orangeburg, SC and picked up on Monday morning. "So you've got everything down pat. You just struggle hauling the tarps onto the flatbed," Randy mentioned as he handed me over a lime-shaken Corona.
"Yeah, would be nice to add a couple of inches in height," I added.
"Well, we can't make you taller, but we can make you stronger. BTW, I spoke with the training supervisor.  With my vote of confidence, we're ready to release you to your home terminal in Baltimore."
"Awesome, good timing – my Subaru is ready to be picked up, and I'll just drive back."
So when will they assign me a truck? I waited two weeks, meanwhile getting paid $500 per week for waiting. Then I was assigned an International and drove for four months.
Everything was going well. I drove from NYC to NC and as far west as Ohio. I was running a lot of miles and even volunteered to drive a load to NYC one weekend. Then on Veteran's Day – I was upset for working this day.  I was rushing to get the load delivered in Virginia.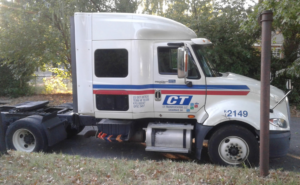 On Nov 3, I was traumatized by this shocking news that Trump had won especially since I thought Hillary had a lock. When I was driving outside Harrisburg, PA, I was on a downhill with a heavy load. I was clocked going 72 mph. Within minutes, I got a call from my Driver Manager.
"Slow your ass down. You're gonna hurt someone or worse get killed."
"Ok, Boss man, but I'm not going to volunteer for any more weekend trips. Driving to NYC. last weekend messed up my rhythm."  (Since taking an extra trip to Queens on Saturday, I couldn't start my first load on Monday till late, so that pushed my schedule back – all week I was rushing to catch up)
"Alright deliver this load, then return to Baltimore and park the truck in the yard." Coastal Transportation fired me for over-speeding – going more than 72 mph (on a downhill)
This is not a DOT mandate and most trucking companies could care less.  This was actually a requirement imposed by their insurance company.  But still it was up to them to comply.
Companies today can install sensors in their trucks which will measure speed and will send an alarm to the terminal.  Some are accurate, some give false readings – they both can create agony and angst.
My company chooses to fire drivers that go over 72 mph (I did it 3 times over 4 months)  I felt rushed because my terminal manager was calling me to tell me to hurry up to make the deadline – this is after driving all night.
But its fairly easy to do (when loaded w/ 80K pound), its not illegal (this was company policy, and its questionable whether this is even unsafe.
I have no problem with them firing me but they wrote on my DAC report that I'm unsafe and now I'm unable to get a job (with that report) — they didn't have to say anything because it's a company policy — not DOT.
Its questionable whether going over 72 is unsafe because after a downhill there's an uphill and you need the momentum so that you don't slow traffic behind you
Also not all trucks are the same. 40% of the trucks are the newer MACs that don't overspeed. The rest of us have the old Internationals that do.
So if the company is going to fire us for Overspeeds than they need to make sure that everyone gets the same type of trucks.  But since the company was operating on wire thin margins, they couldn't afford replacing their fleet with Macs.
---
The phone rang, and it was my recruiter – she had been calling for weeks, and I finally took a deep breath and accepted the call.
"So what's keeping you from working for Western Express?" she inquired with uncanny determination.
"Thanks for asking, but I have to organize a 13-mile charity run in DC in mid May, and I need to be home a couple of weeks in advance to plan and organize," I mentioned, hoping this would do the trick.
"Don't you have someone you can delegate these responsibilities to, or are you a one-man band," she wondered.
"Yeah, unfortunately – this is my baby, and I've been going solo ever since she was just a twinkle in my eye."
"No worries," she assured. "Hop on a bus to Bethlehem, and we'll get you trained, tested and released for home with plenty of time to spare," she reassured, making a huge assumption that things would go off without a hitch.
That sounded encouraging. "Just how much training would I need?" I wondered.
"Well, looking at your DAC report (Drive-A-Check), I see that you have four months of experience with Coastal Transportation. So we'll just require three days of indoctrination and a week of cargo securement flatbed training, both at our Bethlehem yard and then a week on the road with one of our road-hardened trainers."
This sounded very doable. Even though I had my reservations, I didn't see any reason not to give it a shot.
"BTW, how come you were at Coastal for just a quick second?"
"Well, I got fired for going over 67 mph on a downhill. Does Western have the same restrictions?'
"Nope, we're not that strict. We give our drivers lots of freedom. Just don't do a U-turn, and you should be ok."
My week with my trainer was one of the most mentally agonizing experiences since I spent a month "cranking" serving as a food service attendant onboard a U.S. Navy Knox class frigate.
My trainer, Trevor, reeked of old cheese and bacteria. He never took a shower the entire week, and he probably didn't brush his teeth daily, the few ones that he still disposed, albeit rotten and decayed.
First thing he did each morning, he combed his thick mass of hair with old-school Brylcreem, gobbled a huge wad of chewing tobacco filled his thermo flask with dark, roasted coffee and he was good to go.
Trevor was a million miler and he won numerous awards for no preventable accidents, though he loved screaming at four wheelers and called every women driver who tested his mettle with the C-word.
During the seven days we spent on the road together, we were busy – teaming up and hot bunking when we needed naps. To this day, I don't remember what was worse – smelling his foul breath when he yelled like a banshee or sleeping next to his sheets that smelled like a dead rat.
The next day, I got in my Subaru and headed home to DC – just in time to organize another fabulous run.
The unique aspect of the EU Embassy Run was that we visited over a dozen embassies while running 13 miles. While most people had to wait in long lines to get in, we got head of the line privilege. And the best part we got to partake in the food, drinks and culture from each location.
The run started eight years ago on a whim. I coerced a couple friends and the run has blossomed into a public event with a loyal following.
After the run, I rushed back to Easton in my personal vehicle. The recruiter was right – I could return home to organize my big event and back to finish up training.
The only thing left was my test drive around town and a couple of backing maneuvers in the yard.
The test went well, but my tester, John, recommended I take a 3-day backing training.
"No worries. In fact, I was looking forward to it. Who wouldn't welcome more training."
On Saturday, the Lead Examiner came to pick me up along with all my luggage from the Days Inn Easton and dropped me off in the Bethlehem terminal to pickup my truck.
"I thought I have backing training," I asked.
"Well we decided to waive this training and assign you to your truck immediately," he replied. "That way you can start making money."
Since this was a three-day Memorial Day weekend, I was instructed to stay in my truck and wait until Tuesday when my Driver Manager would contact me and issue my first load assignment.
After completing the walk through, getting a few things fixed and then signing out the truck, I drove to Nazareth to the Western Express terminal in Nazareth to park the truck. The truck had been cleaned out, but no amount of baking soda could eliminate the smell of urine – hopefully the previous driver had a K9 co-pilot.
As instructed by the Lead Examiner, I was to stay and watch my truck through the three-day weekend.
I was looking forward to taking a three-day backing class because I wanted to improve my backing skills. Backing is a skill where every driver, young or old, always needs to improve and refine. My trainer would not have released me from the week of on-the-road training if he wasn't satisfied by my skills.
The backing class should not be used as a means to discriminately eliminate trainees since this is what the 3-day indoctrination, the 3-day in-house flatbed training and the 1-4 weeks of on-the-road training time with a qualified truck driver is intended to do.
On Monday Jose was so busy that he could only give me training for 1 ½ hours of training. I waited in my truck at the Bethlehem terminal all day for Jose who was busy doing other tasks. Finally, I ran into the Safety Officer at the terminal. I explained to him my situation and that I was wasting time just waiting around for Jose. The Safety Officer empathized with me and agreed to test me on my backing.
The first two backing maneuvers were perfect. I conducted two difficult alley dock backing maneuvers in two different locations in a very busy terminal satisfactorily, within time and with no incidents.
At which point I felt I had satisfactorily demonstrated my backing skills to the Safety Officer. He then surprised me by directing me to do a Blind-side alley dock maneuver.
Blind Side alley dock is a maneuver that Western Express doesn't teach or test. From my indoctrination to my on-the-road training, all my trainers instructed me never to attempt it since its challenging, risky and thus should be avoided. So I never once attempted this.
That's why I was shocked when Why the Safety Officer asked me to attempt it. Perhaps he wanted me to attempt Blind-side as extra credit since I already satisfactorily completed two sight-side alley docks. Whatever the reason, I felt motivated to try it, knowing that I had the perfect person to keep an eye on the rear of the trailer, just in case I got too close.
The role of the Tester is to also serve as the spotter and to prevent the trainee from hitting anything. As the name implies with Blind-side, the driver cannot see where he's backing into and must rely on the mirrors. Thus a spotter is always required.
Suddenly, I heard a Whoa! I looked at the convex side mirrors and saw a raised fist. I stopped, set the parking brakes then climbed out.
The edge of my trailer had nicked the side of the truck behind me. I was livid – it was the job of the Safety Officer as the tester and spotter to ensure this would not happen.
On the contrary, the Safety Officer made it appear like it was my responsibility when clearly it was his, and he had failed in his role.
Shortly after this incident, the Safety Officer informed me that I would be released from training. He told me to call the Western Express claims line to report the incident and asked me to turn in the keys to my truck.
Not only did I have to take all my shit from the truck that I just spent time cleaning (second one, mind you), but I had to find a way home. I had 4 duffel bags of clothing and gear, which I wouldn't be able to easily take onto the bus.
I have no problem with Western releasing me but they actually wrote on my DAC report that I was unsafe which would hinder my ability to find work — In actuality, they didn't have to say anything because it's a company policy — not DOT's. Frankly, if I couldn't work for them, they didn't want me to work for the competition.
Western should never have assigned me a truck if I had not completed training. They should have owned this mistake and accepted responsibility.
At any rate, welcome to trucking. Firing & quitting are two common practices. No wonder, companies have a hard time keeping driver's seats filled.