The phone rang out of the blue. Normally it's a robocall or some scammer who wants to pressure me to sell my house.
"Hello this is Sedrick from Commercial Driving School. Is Chito there?"
A long pause, then I remembered I was checking out their website a few days ago – I must have inadvertently made an inquiry. It didn't take long for them to follow up.
"How would you like to get your CDL?" Sedrick, the recruiter, asked eagerly.
"Not a bad idea, but I don't think I can commit to attending class full time right now," I swiftly explained.
"Totally understand. That's why we have part time training on weekends 8am-5pm for 10 weeks," the man suggested.
I was just checking out their site – I couldn't possibly be serious. After all, I'm busy running a FoodTech startup in Washington DC, and wouldn't have the time to start a new career in trucking.
Next thing I know, I find myself visiting the school in Middletown, VA, not too far from Front Royal or Fro Ro, the "canoe capital of Virginia."
"So why do you wanna become a trucker?" Sedrick asked as he gripped my hand firmly letting out a burst of stifled laughter.
"Don't know if I can answer that question yet – don't even know if life on the road is for me. Heck, I'm still wondering why I'm here in the first place."
"Well, I know you live in the District. So do you wanna go over the road for weeks on end or do you wanna run local and get loads of home time."
"Yeah, that's the million dollar question Sedrick. Opportunities to make money in trucking is very limited in DC. Heck, they don't even want you to drive anything larger than a box truck within the city proper. And since I served 20 years as a Navy squid, I'm sure I could handle been gone for weeks on the road. And by the way, I'm divorced and no longer tied down to anyone, except maybe my tenants."
The school was located on the campus of Lord Fairfax Community College. There would be 8 days of classroom training spread out over the first month then 100 hours of training in the driving range and on the road. The range was located 15 miles away in Front Royal, VA which was inconvenient since some days started with class in the mornings and range in the afternoons. Also we frequently had to return to the school house to meet with recruiters.

The advantage of having the classroom in a college environment was the use of the recreation center and fitness center which was modern and clean with expansive mountain views. I signed up for the class begrudgingly.
On the weekends, I would be leaving the comfy confines of Washington, DC and spend 48 hours in a little mountain town nestled in the heart of the Shenandoah National Park. I had never considered getting behind the wheel of an 18 wheeler. Don't even like the game The American Trucking Simulator.
Truckers were foul mouthed and dirty and the work was tiring and grueling. I had an MBA and I was supposed to be dressed in a suit and tie not draped in a tarp with bungee cords. I was supposed to sit behind a desk with an 18-inch screen, not an 18-inch steering wheel. But hosting events and happy hours for RUNINOut was wearing me out and there was no money in it. It wasn't our business model after all. Adding restaurants throughout the country was our true intent, and trucking provided the opportunity to spread our reach. Trucking also provided the allure of miles upon miles of driving bliss and easy money if you can handle all the bullshit.
When we met our instructor, stereotypes of an overweight trucker in jeans and cowboy boots jumped out the window. Jimmy was every bit 5 foot 8, lean and scrawny. He sported a goatee so thick that I could easily lose my keys in it. He had no mustache and neither did he have any hair on top. His bald dome was so shiny, I had to don Ray Bans to reduce the glare.
"My name is Jimmy – I've been on the road since it was sexy to be a trucker, when you were just a twinkle in your father's eye.
"Convoy, Smokey and the Bandit – I'm not too young to remember when the urban cowboy was idolized and when trucking was trendy," I replied in jest.
"Dry vans, reefers, flat beds, owner operator – you name it, I've done it."
Wow – impressive – even flat bed, I thought to myself…that skinny guy.
"Yes, I know what you're thinking. I'm too small to chain down an oversized load and manhandle a damn tarp – and yes it kicked my ass a few times. But it sure as hell paid a couple bucks or more per mile."
A collective laugh in affirmation.
"That's good that you guys have a sense of humor. One word of advice – you're gonna hear a lot of crap from me, JR and even Sherry. So don't take anything personally."
"We gotta mind our p's and q's here, we have a female in our class," Sedrick added.
"I know why you guys wanna get into trucking," Jimmy said to our class of seven guys and one gal."
We all looked bewildered – was he going to mesmerize us with the fun, adventuresome life on the road, rolling in the dough?
"It's to get out of the house – escape your spouse who's tired of seeing your ass day in and day out. And for you Chito, get out of that damn Beltway that's gotta's drive any driver batty."
"Oh my goodness, if you only know my tenants," I added. They put me through the wringer then kick me in the butt on the way out.
"It's to escape my kids," said Martha sarcastically."Yeah, I've got three myself," said Jimmy.
"How many do you have?" I inquired probingly.
"Eight and one on the way," she answered proudly.
We all looked astounded. How would she do her pre-trip if she had to worry 'bout her prenatal? This would promise to be an exciting and eventful truck driving school class, if we made it out in one piece.
"Ok, today we're going over the nuts and bolts of a class 8 heavy duty truck," Sherry, the lead instructor announced.
Sherry is a Mom and Grandmother and has been driving for 25 years. Although her services were direly needed at home, Sherry knew that life on the road was her true calling. There were many days that were monotonous, and she wished she could be in Middletown to nurture her family, but deep down inside, Sherry knew, she was living life to the fullest.
Sherry was exclusively dry van. She loved been dispatched to deliver household items. Places like Walmart, Amazon, Giant – to pick up non-perishables – products that she recognized and understood.
When she sees something at the store that she had previously delivered, she develops a great sense of satisfaction that she's making a noticeable difference in society
Sherry enjoys working under the hood and getting dirty, but she also likes to chill and put on female clothes every once in a while. Even as a trucker, it's ok to don purple leggings, a pair of pink, bedazzled crocs and to get her nails done once in a blue moon. It wasn't mutually exclusive. You could work a tough manly job replete with big engines and high speed and still flaunt your feminine side like a cover girl.
"Are we gonna learn to be mechanics?" asked Todd snidely.
"No, not literally – we're going talk about and touch all the working elements of a tractor trailer," JR added.
JR was an assistant instructor and spent most of his time on the range while Jimmy stayed mostly in the school house.
"During your CDL test, you'll be required to point out every nook and cranny on the truck, not just under the hood, but also throughout the entire length of the tractor trailer," Sherry stated. "You have to talk fast and roll out buzz words like you're a cattle auctioneer, and it could still take up to an hour to go through the entire spiel."
Sherry stood in front of the truck and spoke with both arms raised
"The first thing you do is to look for lights, leans and leaks. Verify that the Lights on the are the proper color, securely mounted, not cracked or broken, and clean. Next, make sure the truck isn't leaning to one side, which could indicate a suspension problem or low tire pressure. Finally ensure there are no leaks underneath the engine compartment. Doing this daily will prevent break downs and less break downs means less chance of an out-of-service violation and less accidents."
We all listened attentively – rolling our eyes and scratching our heads. When can we start driving? It's gonna be a long weekend – there certainly was a ton of crap to learn. And I didn't expect to get under the hood, and get my hands dirty.
"I know what you're thinking," JR added. "You didn't come here to be mechanics. But the more you know about your truck, the better a driver you'll be. You and the truck become one."
The next weekend, Sherry went over the Air Brakes test.
Another way to think of the relationship between the governor and the compressor is that the governor is the bossy wife and the compressor is the lazy husband. When the system reaches minimum pressure the wife tells the husband to go to work and put air in the system. When the system attains maximum pressure, the bossy wife (governor) tells the husband (compressor) that he can go relax in the living room, watch NASCAR, drink beer, and fart.
This was the best analogy I've heard and things were beginning to sink in.
The following weekend, we first started with straight line backing.
"First put the truck in reverse. Take the foot off the clutch, both feet on the floor and let the truck backup on its own. Turn your head side to side and look for any drift on both mirrors. If you see it drift to one side, turn the steering wheel to the same side, hold for 3-5 seconds and return the wheel to center. Turn the wheel towards the problem and remember to go easy on her."
"Shit this is so simple, I can do this in my sleep," Todd mocked. He grew up in a family of truckers and have been driving the farm grain truck since he was 8. Learned how to detach a Fifth Wheel before he learned how to ride a bike with training wheels off.
"Yes, it's simple but even the most experienced truck drivers mess up straight line backing sometimes. They lose patience and often oversteer," Sherry explained. "Why do you think most accidents occur in the truckstop or in the yard."
We can't run a marathon, if we don't know how to walk. So after we all got straight line backing drilled into our brain housing group, we were ready for the next step: offset backing.
"Offset why are we wasting our time with this BS- why can't we cut to the chase and start learning how to parallel or alley dock like the Big Boyz?" Todd insisted. "That's where truckers make their mark."
"While offset may not be something truckers do very often, it's actually an important piece of the puzzle," Jimmy answered.
"There are times at the shipper, you back into the wrong dock, or worse they switch docks, and you gotta move over. Well it's not easy to move an 18 wheeler 10 feet to one side or another," Sherry added.
"Say you have to move the trailer to the right. Turn the steering wheel hard left. Back up and stop when you see 3/4th of the landing gear in the convex mirror. Then turn the steering wheel hard right and back up until the trailer is directly behind the truck. Then back up straight, looking for the target cone in your right mirror. When the trailer tires clear the cone, turn the steering wheel hard right again and bring the truck in alignment with the trailer and push the trailer into the box. STOP."
All eight of us took turns making two maneuvers at a time. The rest of us stood around and shot the breeze or poke fun at our classmates as they ran over cones or completely mucked up the maneuver. Martha and I spotted for each other and gave advice on how close we were getting to the cones.
As we gossiped about potential football trades and Hollywood latest flings, a herd of deer moseyed carelessly in the grassy field across the street. They didn't care about us, and they could care less about the trucks.
"K-Bam…Boy would I love to mow down one of those right now," Todd added with his hands drawn together in a shape of a shotgun.
"That's a beautiful White Tail. Why do you want to kill her?" I asked with a grimace.
"For the thrill of the hunt. Can't wait till November when it's open season. The last time I shot a buck, I was a month early and the game warden had me arrested for poaching," Todd answered with a ruddy scowl.
Martha laughed. Then looked straight at me and asked. "Say have you ever spent a night in jail?"
"I never had before last week," I responded. The Friday before we started our straight backs, my tenant called the police on me for breaking her remote control. I was here in Middletown when the DC Police issued a warrant for my arrest. The police came looking for me so when I returned to town, I turned myself into the precinct on Monday morning. That was a big mistake."
"Really for turning yourself in?"
"No, for doing so later in the day. After the precinct locks you up, they wait until they accumulate a van full of detainees before you get transported across the river to the Downtown courthouse in Judiciary Square. The police department normally makes this trek twice a day – once at daybreak and once in midday. If you miss the earlier trip, you gotta just hold tight for the next ride, even if it means spending the night."
This garnered a collective laugh from Martha and Todd.
"Welcome to the flock of jailbirds," Todd smirked. And if the state doesn't decide to drop those charges, you'll have a hard time finding work from any reputable trucking company, even Western Express."
"Alright guys, stop making fun of your fellow drivers – we can joke in the classroom, but when we're in the range, this is serious – you could kill someone here," Jimmy warned.
That was it. I had enough of backing and gossiping for the day. It was now time to air my thoughts and go for a quick run.
I often ran around the yard, away from the big trucks or even around town for a mile or two. Perched in a driver's seat all day is unhealthy so it's smart that I start exercising from the very beginning, if I expect to have a long career as a trucker.
Running controls stress and it also helps me think better. For now, I have to ween myself from the pack and engage myself with my inner monologue. Still debating whether I should pursue a career in trucking. After a 20-year career in the Navy and founding a startup company, driving a truck doesn't seem to be the right fit. I'm in my element whenever I'm online and making websites, not necessarily on the road delivering freight. And whenever I'm driving, I wouldn't be able to google, check my email or engage on social media. It would be a tough to abstain from facebook and twitter for several hours a day. The thought of that is worse than the notion of alley docking into the tightest spot in Jersey.
Training in the Front Royal range was like camping. We were 15 minutes from campus and there were no bathrooms except two porta potties that weren't emptied as often as needed. One was for Sherry, the lead instructor (and the few females who trained with us like Martha) and the other for everyone else. Luckily, the range was located next door to a beloved Thai restaurant. Ben's Family Cuisine located on the foothill of the Skyline trail.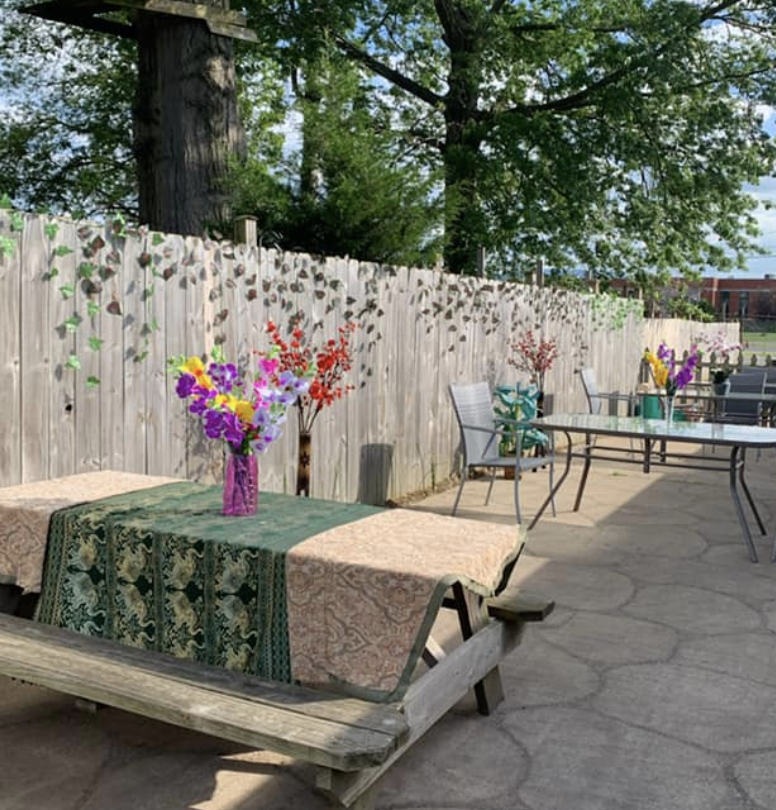 We started with the spring rolls – they were crispy and fresh sprinkled with ground turkey, cilantro and carrots.
"What are you trying to do – stuff me up so I can't fit into the front seat of the cab," said Martha.
Then Martha ordered the seafood stir fry which was zesty, succulent and filling. She could barely make it half-way and realizing the lack of modern restroom facilities at the yard decided to take a doggy bag.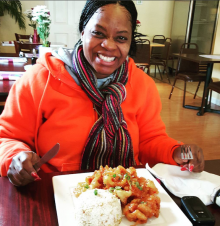 I ordered the Drunken Noodles with shrimp – 3 peppers out of 5 and boy those juicy Thai peppers were hotter than the engine exhaust pipes from the Volvo.
I had to order a 20 ounce glass of Singha just to put out the flames. No wonder they call these noodles drunken.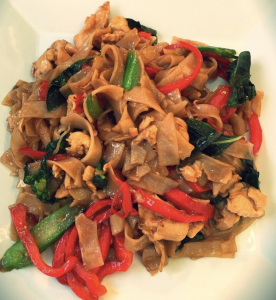 After lunch I thanked Satya and quickly went over her website.
"Your site design is great. The menu is very readable and the font type is inviting and mouth-watering," I complimented.
"My only beef is with the SEO – You don't appear to be using the Yoast plugin so the menu is not fully optimized for search."
"SEO?" She stared inquisitively.
"Search Engine Optimization – improving your ranking on search engines like Google, Yahoo and Bing. "
After this, I went over Ben's Google Business profile with Satya showing her how to update her info and responding to reviews.
Before I knew it I could hear the roar of a turbocharger in the distance. A half an hour had passed and Martha was probably already seated behind the wheel, mashing the clutch.
I rushed back to the range to the usual straggle of trainees waiting for their turn for their turn to play cowboy trucker.
"Where have you been," Todd exclaimed furiously.
"I've been eating at Ben's Cuisine next door," I answered. "You should go there sometime. The food is affordable and the beer is frosty cold."
"Yeah, I know Martha brought back the stir fry which I enjoyed but she, unlike you got back to school on time."
"Well, I had some business to take care. And after all, we're all here for ourselves so if I wanna come back late, that's on me.
"You're a disgrace to the class," Todd declared.
"F*ck you!"
I didn't feel like I needed to explain my absence to my fellow classmate. My only responsibility was to myself and to my instructors. To hell with this – I'm done with school for the week. Glad to be returning home. I would never get in the cab of a truck with Todd ever again.
The next week we were ready to start learning how to shift and roll. We weren't yet trusted to maneuver the rig through the shady streets of Front Royal, so we stayed circumnavigated the yard.
Driving a ten speed is like taming a ten-headed monster Not only are there more gears than you can shake a stick at, shifting into one takes more finesse than force.
Despite today's playstation generation's aversion to the manual transmission, any level-headed centennial who can count to five and possesses the rare virtue of patience can learn to shift a stick.
A semi truck, on the other hand, is a whole different beast.
Unlike automobiles, a semi truck doesn't have synchronized transmissions. In other words, if you don't match the RPMs by revving the accelerator (the fuel pedal), the gears will not mesh and you don't get into gear.
This sounds terrifying, and it can get a lot worse. If you don't find your gear soon enough, the truck will keep decelerating and you will have to settle for the next lower gear. If this happens, be patient and never panic.
Now imagine going up or down a hill and you can't get into gear. Best you grind your way into a lower gear. Worse, your truck stalls and you lose control. You start applying your brakes but then you notice a strong, burning smell from your trailer and when you look out the side view mirror and see nothing but smoke and a long line of cars meandering behind you. You know you're in deep tar and brake dust.
While a truck driver uses the speedometer to determine which gear to choose, he relies on the RPM gauge, or tachometer to know when to shift.
Large trucks have lower speeds and higher torque, so they can shift at a lower RPM than a car.
You shift up at 1500 RPMs and shift down at around 1200 RPMs. Every truck maker has its own unique characteristic and every driver develops his own sweet spot. That's why many truck drivers float and can intuitively feel when their gears are in synch.
Newbies under the tutorship of an impatient trainer like to rush, and white knuckle the shifter into gear. This is the wrong way to shift. Remember: finesse not force.
If you miss the gear, you could grind it and eventually damage your transmission. A used tranny starts at a couple of grand and that doesn't include the heavy cost of install. That's why it's best to learn how to find the sweet spot.
If you push the shifter with your pinkie from one end to the other direction, it will first go to the soft wall. The soft wall is the entrance to seventh and eighth gear. Now if you give it a little more exertion, you can push through the soft wall into the hard wall which is the ninth and tenth gear.
So despite its large appearance, the gear range is only seven inches and you don't have to exert any force – pushing with your pinkie is all that's really needed.
Finesse not force.
---
Taking the CDL test at the Front Royal DMV was like climbing the steep Donner Pass with an oversized load on a broken axle. On one blustery, cold April morning, ten panic-stricken students showed up to take the dreaded drivers road test, all ten left without a CDL. Only one had a conditional pass, meaning he didn't fail but he had to leave early to return to work, so he would have to come back to finish where he left off. Even Todd did not survive, and after all the grief he gave me for returning from lunch late.
Even the Navy SEALSs had a better attrition rate. Despite training for five months, how could we have such a dismal failure rate. Did the DMV have an axe to grind or were they making a statement to the school?
Perhaps we had pissed off the DMV by driving the route that the testers were taking their examinees. That wasn't cheating, but the testers didn't want to give our trainees any edge.
Since the school was brand new, they had just started working with the DMV and had to establish a repertoire. And the state had to raise the bar to show future students they wouldn't be playing around. So we were the guinea pigs for a new vaccine prior to clinical trials.
The lead tester was a ruthless despot named Dorothy who gave me the chills so bad, the whole truck shaked even when the engine was on idle.
I started with the air brake test. I turned the ignition on and let my foot of the clutch.
"The first step is to check that my air compressors are working," I stated as I revved the accelerator so that the air tank pressure reached 100 psi. Sherry's vivid metaphor of the governor been the bossy wife and the air compressor, the lazy husband paid off here. When the air pressure on both tanks reached 100 psi, the buzzer stopped and I heard a faint sneeze indicating that the air tanks are full.
Now I was ready to proceed to the next step.
I then put the truck into first gear, turned the truck off, and then turned the key back on. Then I released both parking brakes which takes the air out of the air tanks and puts it into the brake chambers. Then I turned my timer on my cell phone on and waited a minute to ensure I didn't lose more than 3 psi in 1 minute.
I remember Sherry telling us not to forget to turn the key back on – the ignition key has failed more people than you know.
I did fine on the air brake test and in-cab inspection. And I knew the pre-trip procedures cold. But when I was under the gun, and she breathed down my neck like an overbearing drill sergeant, my memory turned to gel.
I then failed to mention that the slack adjustor is not cracked, bent, or broken and has no missing hardware, and since I began on the driver's side, I missed it on all the subsequent wheels because we're allowed to say "I'd check this axle the same as I would my front axle, checking my frame, brakes, suspension, tires, and wheels,"
I forgot to mention the requisite number of correct items to pass. Didn't even get a chance to get her in gear.
I stormed back to the schoolhouse – Sedrick was sullen and dejected, crouched down licking his wounds.
"What the hell is going on with this deranged DMV office in this podunk town?"
"Yeah, today is definitely a terrible day for CDS," he replied, shaking his head wistfully.
"You know what Sedrick, I wish you never called me to come out here. This was a big mistake."
"Well perhaps you should have paid better attention at the range. JR told me that you didn't stay in the yard much. You were either late from lunch or running around the yard like a truck in the wind.
"Can't believe you said that – we spend a lot of time in the yard twiddling our thumbs and talking smack with each other. At least I'm doing something positive for my mind and body."
"Well you should own up to your mistakes. You need to look no further than the mirror."
"Which one, In a truck, there's a half dozen of them."
"Well, if you know them all, then you should have breezed through the pre-trip like it was a day on the beach."
"F*ck you!" I hollered.
"Let's take this outside," he demanded.
The argument continued outside the halls of Lord Fairfax to the point that we attracted a small audience from the community college. Students gathered and the campus police showed up.
"That's it – you're no longer welcomed on campus," Sedrick demanded.
"Oh the terror, then can I transfer to the Fredericksburg campus?"
"No can do – you're gonna finish up where you started. You can return to the Front Royal range to practice your skills, but you don't need to visit the schoolhouse ever again."
To let off steam, Martha and I visited the Pavemint Smokin' Taphouse for drinks. Just like you need to idle the engines after a long haul, we needed to blow off steam at a local tavern. Of course that was after a run through historic old town along the bike trail along Happy Creek.
The gastropub was my favorite due to its atmosphere – a 1960's gas station turned into taphouse with fresh microbrew that backs into an arboretum, water running over the rocks. Across the street was another of my favorite eateries: Thunwa Thai
"Sherry told me today that I can't take the test until I have my baby," she said dejectedly.
"That's a crock of shit. You're nowhere close to your due date. What were they thinking giving your unborn child a CDL also?"
"Maybe they think, doing a pre-trip on an 18-wheeler is too strenuous, or that I'll pass out behind the wheel," she mocked.
"I told Sedrick today, I wished I never bothered to pick up the phone."
"Yeah, it's starting to seem like a mistake for me, too. So are you gonna wait 3 weeks to retake the test?"
"Well when I was driving down to Georgia to see my Mom for the holidays, I stopped at Fredericksburg campus. Some of the students informed me that the DMV in Chester, VA (just south of Richmond) gives away CDLs like they were fake lottery tickets."
"Will CDS let you take the test down there?" Martha inquired.
"Heck no. The school's too damn cheap. But I have a idea."
The next week, I drove down to Chester to meet with Shipper's Choice.
I worked out a deal where I would rent the truck for $500 to take the test. This also included 5 days of training. The reason they would allow me to do this was because their yard is located next door to the DMV.
Martha had also attended Shipper's Choice several years ago and knew some of the instructors.
"We'll take care of you here," they promised. "We have a good relationship with the testers."
"Yeah, can't believe what they did to Martha," I added.
"Tell Martha to come back, we'll let her finish up her training on our dime, and we'll even throw in the fuel for free," they offered.
I would be camping out in Chester for a week or so, so just like Pavemint was my gastropub in Front Royal, I needed a hang out spot in Chester. A place that offered reasonably priced food, great happy hour specials and lots of TVs to watch baseball. Found that spot at Wings, Pizza & Things.
"Are the Nats gonna make it this year," Heather, the bartender asked.
"I certainly hope so especially with Bryce Harper smashing homers and Max Scherzer tossing bullets," I replied with a twinge of cockiness.
The bartender noticed a toy die-cast tractor trailer on my table. I was spinning it in between the napkin holder and the salt and pepper shakers.
"Hard left rudder," I yelled as the trailer swung to the right and then I followed through and straightened out my trailer.
"Is that your version of American Truck Simulator?" Heather asked pumping her arm to signal an air horn.
"Yes, it's the old fashioned version of the popular video game," I responded with a grin.
"So are you a student at Shipper's Choice? Training to get your CDL?" she inquired casually.
"Yeah, I come all the way from DC so I'm camping out here until I take my test."
So I spent many afternoons at Wings & Things, converting the restaurant table top into my makeshift office.
And in the evenings parked next door at the Holiday Inn Express and crashed in the parking lot so I could be ready to roll first thing.
The school let me train with them for a week and I gained a lot of skills both in the yard and on the road. Each instructor had his own quirks and offered a different perspective, and each truck I drove offered it's own challenges. Finally my week was up and I was ready to take my exam.
The day before, without much notice, I got a call from the U.S. Marshalls.
Usually they would call a day or two before the eviction. I had received judgment for possession over a month ago and had been waiting restlessly in limbo.
Yeah! after months of drama, arrest and time spent in Landlord Tenant court, they would finally be evicting Faith.
The process drew out so long, that I went to court three times with Faith. The first time she asked for a continuance. The second time she claimed we improperly served her (We invited her to Gordon Biersch for happy hour and instead of handing her a check, served her the complaint.) The last time she made the judge laugh so hard, he gave her leave to seek legal help.
"Your Honor, excuse my French, but I'm a lesbian and the defendant is trying to f*ck my girlfriend," she told the Court. The courthouse immediately erupted in a burst of laughter. Even I was all smiles and I struggled to maintain my composure.
Airing her dirty laundry in court was crazy and beyond comprehension, but the tactic seemed to have worked – the judge clearly didn't want to deal with the complexities of this case, so he pushed it back to the next unlucky magistrate who would be assigned the dreaded "LT" duties
The next month things turned out more smooth for me. Luckily, Faith decided not to bring up any surprises and with her still not paying rent, I was awarded judgement for possession.
I still had to wait several weeks for my eviction date. And as luck would have it, the U.S. Marshalls office called me the week I was scheduled to take my CDL Test in Chester, VA.
So I called Neil, the eviction specialist. "Can you get a 15-man working party to Lebaum tomorrow morning?"
I wanted desperately to be home to oversee Hope get the celebrated boot. But if I didn't get my CDL, I wouldn't be going home at all.
The next day I get a call from Neil. "You wouldn't believe it, but the Marshalls confronted Faith at the door, and she threw a huge tissy."
"Hurray, after all this wrangling, we finally got her out."
"How 'bout all her crap."
"Yes our 15 man working party got it out. We had to remove all your furniture from the house, and after the Marshalls left, we moved them back in. It was just a revolving door."
The Marshalls required to move everything out, even stuff that wasn't hers. Faith, after all, didn't really own that much. Even the bed and furniture in her room wasn't hers.
Now, hopefully, this would be followed by good news the following day.
My gamble to spend $500 at Shipper's Choice in Chester seemed to have paid off.
Indeed the pre-trip was a lot easier than in Front Royal, but that only got me on first base. Unfortunately the batter hit a ground ball and I was called out at second.
I did the straight back and offset flawlessly without any pull ups.
But then when it was time for the parallel test, the examiner elected for the blindside – which was my weak point.
I first turned the steering wheel as far left as it would go and counted to three
"One Mississippi, Two Mississippi, Three Mississippi"
Then I turned the wheel clockwise until the truck and trailer were aligned.
Then once the rear axle was inside the box, I turned the wheel counter clockwise again and clockwise once more to get in front of the trailer. Everything seemed to go without a hitch, until I waited too long and my rear axle ran over the boundary cones.
At that moment, I could feel the impact in every part of my body.
The tester looked at me gloomily and gave me a throat-slitting gesture.
"Why the hell, do we have to test for parallel anyways?" I fumed.
"Well, pretend you're arrive at the receiver early, and they won't let you inside. Then you have no choice but to parallel park on the street," said Michael my instructor.
"I see, then can I use the truck again to take another test?'
"That'll be another $500," Michael responded rubbing his thumb against his fingers smiling.
"Shoot, at this rate, I'll just buy the damn truck," I responded sarcastically.
Needless to say, the next morning, I headed back north towards the Shenandoah.
Sedrick cleared me to get another week of refresher training before my next test date. Even though he was still raw with me, he was willing to let bygones be bygones. Trucking was a rough and dirty job after all, not for the faint of heart of those thin skinned.
Rocky, one of the newer instructors, accompanied us for the test. This time, our pass rate surpassed that of the US Navy Seals. I survived the parallel maneuver by the skin of my teeth, and even Rocky closed his eyes and crossed his fingers.
When it was time for my road test, the examiner almost disqualified me when at a light I took my foot off the brakes too soon before engaging my clutch and the truck started to roll back. A family of four looked wide-eyed in a sedan behind me.
Thankfully I made it through and after three tries achieved the seemingly insurmountable goal – I was now a certified Class A CDL truck driver.
Sherry, Jimmy, JR, Rocky and Sedrick couldn't be more happier.
"Where are we celebrating?" asked Martha, her grin wider than the blue Shenandoah sky.
"Italian Touch," I responded. "Their pitchers of Bud are priced just right, and we're gonna guzzle it down like it's Kool Aid tonight.
"Why not Pavemint," she asked. "The microbrews there are smashing."
"Well, the Touch is just down the road from the schoolhouse, and their wings are the tops in the Shenandoah."